How AI is Affecting eCommerce Sector 
Artifical Intelligence is well and truly taking over the world. And if you haven't kept yourself updated with the latest international technology trends, then you have quite so much to catch up on still.
Be it industries, major corporations, entertainment, finance and what not – AI is everywhere. Even more so when it comes to the highly coveted e-commerce sector; which is what we're focusing on today.
Before we get to the nitty-gritty however; let's look at what AI actually entails and what made it the powerhouse it is today.
What's AI All About
Artificial intelligence, or Machine Intelligence as it is often labelled, is the intelligence on show by machines which poses a striking contrast with the much more conventional NI (Natural intelligence) exhibited by living beings.
Being more technical, AI involves the study of intelligent agents; devices which hold the capacity to perceive their environment and take actions accordingly to improve the chances for success.
In a way, it is the case of a machine mimicking cognitive functions at best; things which are normally associated with the human mind; activities like problem solving, adapting and learning.
The concept of AI hasn't been accepted with open arms everywhere; some considering it detrimental to how human nature works and those machines might one day take over everything.
However, in recent history, it has experienced a so-called resurgence due to the advent of the Internet, Big Data and the overall understanding of the term, which is why it has grown on to serve a variety of critical applications in the field of computer science.
1. Customer Centric Search is The Way Forward
Wouldn't it be nice to find search engine results that are more about what your needs are than the product/services on offer?
It is crystal clear that most consumers tend to abandon online shopping because the results which are being showcased fall way short on the relevancy scale.
This is where AI enters the fray by automatically organizing, tagging and visually searching content using hi-end features, be it videos or images.
This way, search results are improved substantially by narrowing what the consumers see according to their taste, which brings good news for everyone involved. Magento ecommerce development service providers have started leveraging the power of AI for customer centric search on the ecommerce websites that they build.
2. Everyone Loves a Little Personalization
What personalization is to e-commerce is what Facebook is to social media; both can't be separated from each other. We're not talking about the personalization wherein you'll see search results according to the last products you searched for.
With the advancement seen in the world of AI, deeper levels of personalization has been well and truly achieved by our woocommerce development experts; something which would be unimaginable only a couple of years ago.
Application of artificial intelligence in ecommerce takes a multi-channel approach. How AI works is that it can put multiple consumer touch points under consideration so as to help e-commerce businesses figure out how consumers tend to interact online.
Most of this work happens behind the scenes; hence, goes unnoticed. It helps to build a standard consumer view by factoring websites, mobile applications, e-mail campaigns and what not.
Retailers that have implemented personalization strategies in their ecommerce web shops see sales gains of 6-10%, a rate two to three times faster than other retailers, according to a report by Boston Consulting Group (BCG).
3. The Domain of Inventory planning
Inventory management is one of the biggest assets that any e-commerce business should have. Ask any online store owner out there and they will pinpoint inventory as the biggest Achilles' heel in their armour.
Being out of stock is one nightmare you can never get over. You can not only attract new customers but you may even lose the existing loyal bunch. Also, one the other hand, overstocking results in massive business and capital loss.
This is one of the biggest benefits of artificial intelligence in ecommerce i.e. it can help with the matter of velocity forecasting. AI helps regulate the frequency and velocity of orders on a real time basis. And since these learning systems get better with time, the deal can only get sweeter.
4. Retargeting of Potential Consumers
Managing potential customers and reaching them all become unmanageable for the business representatives many a times because of overload. In such conditions retargeting the potential customers giving them enhanced shopping experience with AI becomes crucial.
Such as many businesses are using face recognition to capture the dwell time of customers in the store and track their products of interest. As per their interest, the AI anticipates special offers on customer's computer screens based on their in-store dwell time. Reading the customers' minds retargeting a wide range of potential customers becomes easier thanks to AI.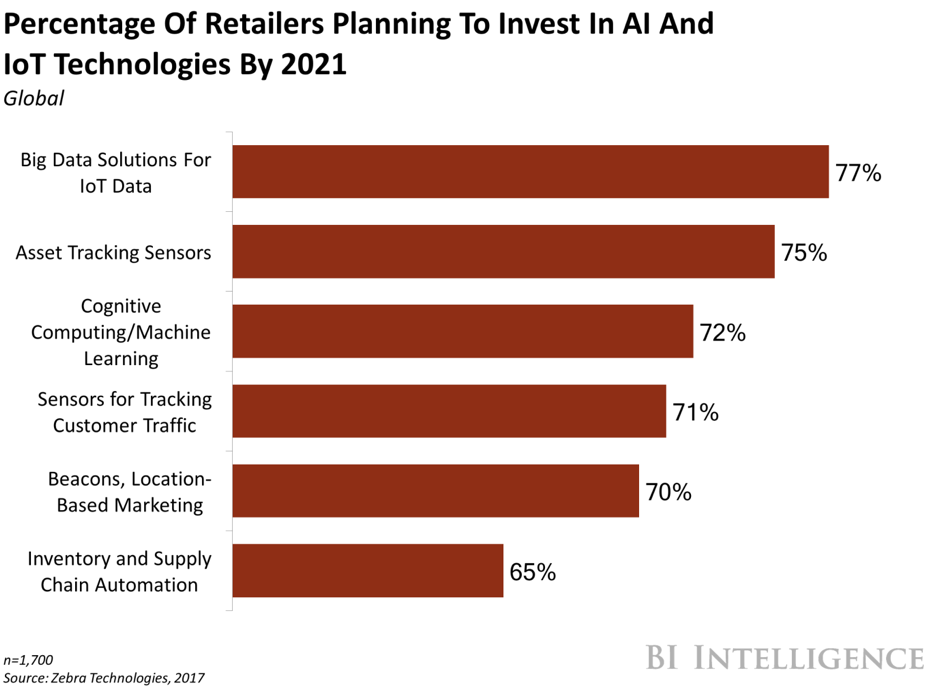 5. Customer Support with Chatboats
A chatbot is a specific computer program that is projected to simulate conversation with human users over the Internet. It is one of the very cost effective ways to provide customer service.
As social media channels like FB is widely used, often when consumers are browsing online, it is observed they are already logged into Facebook as well. This brings a great opportunity to use messenger functionality to confirm orders or to provide instantaneous online support.
Chatboats can also be integrated into a shopping cart or multiple shopping carts which help in retrieving important information enabling chatboats to provide accurate answers to the customers' queries.
Though there are many ways to reach customers such as contact forms, phone calls, and email, Chatbots can be considered a great alternative to reach wide audience in less time.
6. Product Recommendation by AI
There is a huge scope of AI in an eCommerce website design. Some of the complex tasks can be easily figured out by AI such as product recommendation, payment fraud detection, customer support and moderating product images.
In today's situation, when data complexity and work complexity are very high, the unstructured data management and efficient judgment becomes difficult. In such cases, AI can be there to save us. Such as; designing a recommendation engine for the website based on many attributes like customer preference, feedback, latest trends can be of great use.
A number of companies have already employed AI in their ecommerce processes. Such as; Netflix uses AI to provide personalized recommendations to subscribers based on their previous streaming habits.
7. Virtual Assistant for Shoppers
We are all habituated to use virtual agents like Siri, Google Now and Alexa who have successfully introduced us to the idea of talking to a phone, laptop or even a home appliance and get our task done. The base of virtual assistants is rooted in natural language processing and the machine's ability to interpret what people are saying.
This can be useful to many ecommerce businesses. The most prominent voice in commerce field, Amazon Alexa has already emerged as a successful virtual assistant which can be integrated into different products and worked as an assistant to the users.
Such as, using Alexa on Amazon's Echo device customers can check the latest trends of apparels, find out about latest events around, and arrange transport to and from the event via Uber and also order pizza for dinner. Virtual assistants are striking the way customers purchase, and offer a creative opportunity for e-commerce retailers to take advantage of.
8. Leveraging AI-Image Search
"Use a picture. It's worth a thousand words." When the image sharing site like Pinterest is in vogue, various online retailers have invested in AI-image search. By embedding artificial intelligence into digital-images marketing, companies build a data-science model that gets highly relevant product offerings to consumers across the social web.
It is no doubt that AI search is turning the retail sector's next big digital shopping idea that transforms the shopping experience of consumers.
"By 2020, 85% of interactions between retailers and customers will be aided by AI." (Gartner)
British fashion brand Burberry, is delving into AI search to boost sales and customer satisfaction. It is recently gaining major grip for its Cat Lashes mascara on Pinterest, where users receive a custom-made board after answering a survey. Reciprocally, more than 30,000 new boards and 1 million pins were created for Cat Lashes that has helped Burberry to popularize its product.
9. Tackle Fake Reviews
Fake reviews- 'astroturfing' is one of the major concerns for every business. Customer reviews have become the foundation of trust in the online shopping world. Positive and negative both the reviews can make difference in the purchase decision of the people. Some e-commerce retailers are using artificial intelligence to fight astroturfing by identifying and emphasizing on verified and helpful reviews.
Eg. Amazon uses AI to combat fake product reviews with its in-house AI system. Their AI machine-learning system ensures that the prominence and weight of verified customer purchase reviews are boosted.
10. Industry-Focused Engines
Local search and customer experience has become important with the passing of days. Here the AI is playing an important role by industry focused search engines. One of its biggest examples is Wayblazer– an AI platform for the travel industry.
Wayblazer uses AI and helps the B2B companies to generate new revenue through hotel bookings providing a solution to local search. The B2B companies who merchandise hotels, activities, cruises and tours can be benefited by the same. By integrating IBM's Watson and its natural language capabilities, the business can easily personalize local recommendations for consumers.
Conclusion
However, there are several challenges to AI adoption that may make implementation difficult. For many retailers, successfully leveraging AI may require partnering with third parties. This has encouraged many emerging AI commerce startups which help the organizations in harnessing the power of AI to attract their customers in a better way.